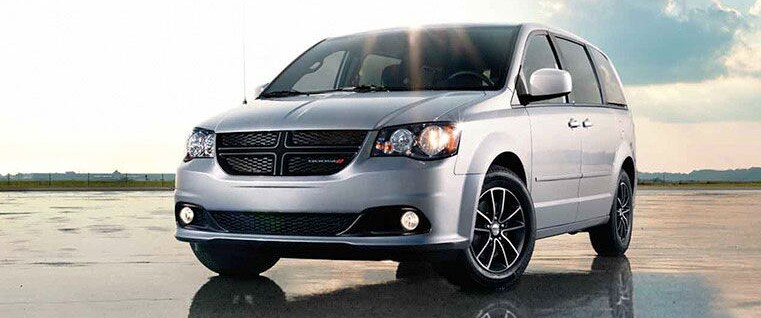 View our 2016 Dodge Grand Caravan Inventory
The 2016 Dodge Grand Caravan is one of the top selling minivans with affordable prices. This is an ideal vehicle for those people who love to watch  their families enjoy a trip to the park. The grand caravan full size minivan comes in four different models for purchase. They are the SE, R/T, SXT and the American Value Package (AVP). What makes it the top selling minivan is its ability to easily adapt to the needs and wants of its occupants, containing standard features that make it the occupant's darling.
Engine and fuel efficiency
The 2016 Dodge Grand Caravan minivan is equipped with the standard engine, containing 3.6 liter pentastar V-6 that provides up to a maximum of 260 lb-ft of torque with 283 horsepower. This engine power provides excellent results for such a vehicle. In addition, the vehicle contains a fuel economizing mode in each grand caravan which makes it possible to change the transaxle shift schedule efficiently trough the pressing of a button. This helps to get better fuel economy. Its departure angle is placed at 17.5 degrees that is best for such type of vehicle. Furthermore, it provides up to 25 miles per gallon (mpg), and it contains six-speed automatic transmission that will make you get to your destination with a single tilt and telescoping steering wheel.
Interior Features of the 2016 Dodge Grand Caravan
The interior of the grand caravan contains the best in-class features with a spacey interior design. The SXT and SE models of the 2016 Dodge Grand Caravan has Bluetooth packages available which offers Bluetooth connections to the occupants together with other packages such as a siriusXM radio. There is a powered driver's seat, with the second and third row passenger seats also being powered. Furthermore, the vehicle contains Uconnect hands free with an inclusive of Bluetooth streaming audio brought above. There is a USB port which increases the chances of staying connected while driving. When all the seats are put down, the vehicle will have up to 143.8 cubic feet available for belongings. In addition, there is the availability of Stow 'n Go seating that means you can use a single hand to create more room for other things.
Exterior Features of the 2016 Dodge Grand Caravan
Some of the exterior features oft the 2016 Dodge Grand Caravan minivan include a 17-inch aluminum wheel. You can also attain the body color heated exterior mirrors. The minivans are available in a variety of paint colors regardless of the model and they have a 5.6 inch ground clearance.
Safety Features of the 2016 Dodge Grand Caravan
This 2016 Dodge Grand Caravan minivan comes with a total of 55 features that guarantees the safety of its occupants with a basic warranty of 3 years per 36,000 miles. Some of the safety features include fog lamps that make it easier and possible to travel through dark roads and in a messy weather. The tires have the safety control feature, the tire pressure monitoring feature which informs on the necessity to fill up with pressure so as to avoid going flat.  Passengers are provided with headrests which ensure they are comfortable and safe especially when a crash occurs. In addition, the minivan is equipped with a safety sphere package that has rain-sensitive wipers, blind spot monitoring, a park sense rear park as well as rear cross path detection for the safety of both the driver and the passengers. 
Tri County 2016 Dodge Grand Caravan Resources
2016 Dodge Grand Caravan compared to Toyota Sienna
 2016 Dodge Grand Caravan Compared to Honda Odyssey
2016 Dodge Grand Caravan Compared to KIA Sedona