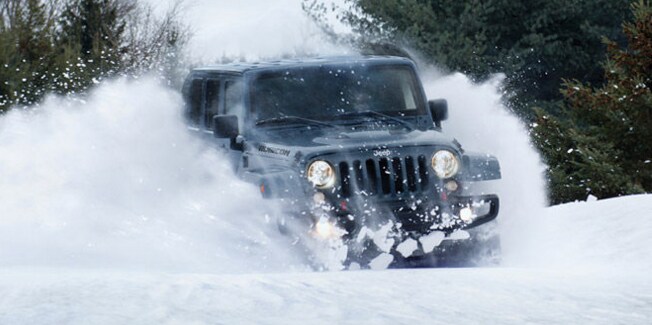 View our 2016 Jeep Wrangler Unlimited Inventory
Looking for a vehicle that offers strength, plenty of cargo space and has a rugged style? The 2016 Jeep Wrangler Unlimited provides you with these main features along with other interior, exterior and safety features that are important to consider when purchasing a new car.
2016 Jeep Wrangler Unlimited Interior Features
With leather seating and a leather covered steering wheel, the inside of the Wrangler looks smooth and luxurious. It is accompanied with eight speakers to listen to your favorite music on the am/fm radio or MP3 decoder. It also has a cd and dvd player. With heated door mirrors and an automatic dimming rear view mirror, driving is made easier when you can see your surrounding better. It has a variable intermittent wipers and a rear window wiper. You get plenty of storage space with a front center armrest compact storage. It has an automatic temperature control capability as well.
2016 Jeep Wrangler Unlimited Exterior Features
Skid plates and a trailer hitch are some exterior features that you may be looking for in a vehicle. It comes in four trims and has a convertible stability and versatility with a hard top. It has heated door mirrors and automatic headlights. It provides plenty of power with a V6 engine and up to 285 horsepower. You get a warning when your tires are running low.
2016 Jeep Wrangler Unlimited Safety Features
The Jeep offers dual front impact and dual front side impact airbags. There's an occupant sensing airbag along with an integrated rollover protection. Traction control and brake assist is offered along with ABS brakes to help make your drive in the Jeep Wrangler that much safer.
Tri County 2016 Jeep Wrangler Unlimited Resources
2016 Jeep Wrangler Unlimited Compared to Subaru Outback
2016 Jeep Wrangler Unlimited Compared to Toyota 4Runner
2016 Jeep Wrangler Unlimited Compared to Hyundai Tuscan