If you notice that your tires are starting to wear down unevenly, or if your vehicle tends to drift to the right or left while driving down a straight road, you probably need your wheel alignment adjusted. Improperly aligned wheels are a major cause of tires prematurely wearing down. Proper routine maintenance can not only save you a lot of money in having to replace expensive tires, but more importantly, they'll keep you safe on the road. 
If you're a driver in Limerick, Phoenixville, or Delaware County and you notice strange vibrations coming through your steering wheel, keep reading to learn the reasons why, along with where to get a wheel alignment near me.
Wheel Alignment near Phoenixville, PA
What is a Wheel Alignment and Why is It Important?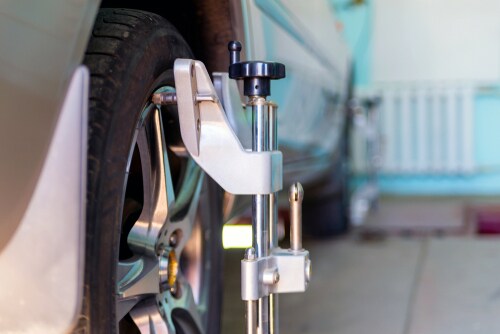 Often confused as a problem with your tires, the real culprit is actually your vehicle's suspension system.  Your suspension is what holds your tires in place and determines what part makes actual contact with the road. Wheel alignments are often needed after traveling over one-too-many nasty potholes, or if you accidentally popped over a high curb. When not properly aligned, it can pre-maturely wear down your tires, as well as make things like steering and handling around corners difficult.
 When a technician checks your alignment, they look for three things:
Camber. This refers to the inward or outward angle of the tire when viewing it from the front of the vehicle. Does the tire lean slightly outwards toward the road or inwards towards the engine? If either, it means the ball joints, bearings, or another wheel piece might be worn down or broken.
Toe. When looking at your tires from above, they should be facing straight forward. If they appear either pigeon-toed or spread outward like a duck's feet, they're not properly aligned and should immediately be fixed.
Caster. Important for stability and cornering, your caster angle affects your steering axis. If it tilts towards the driver, you have a healthy, positive-caster. If it tilts outward towards the front of your vehicle, you have a negative-caster.
How Often Should I Check and Where Can I Schedule a Wheel Alignment near Me?

Wheel alignments generally aren't listed by manufacturers as needing routine maintenance, but you should still make a point to have your technician do an inspection each time you stop in for a visit, and especially after each time you replace your tires. If you notice your vehicle is showing any of the signs we've mentioned, the service team at Tri County Chrysler Dodge Jeep Ram is a great resource to contact.
Schedule a Wheel Alignment Inspection Today
Putting off simple, routine maintenance can end up costing you a lot of money. If you've hit your fair share of potholes, you should be asking where you can get a wheel alignment inspection near me. Our licensed technicians provide thorough service that will keep your vehicle in it's best shape for years to come. If you're in the Limerick, Phoenixville, or Delaware County region, use our online portal to schedule an appointment today!